Today we will discuss about Shared Hosting? At the same time, we will learn what are the advantages and disadvantages of shared hosting?
If you want to open a business website, first you have to choose the hosting. You have different options for hosting the site, such as reseller hosting, dedicated hosting, VPS hosting, Cloud Hosting or shared hosting. If you use shared hosting, you have to share the server with many more sites. In general, shared hosting means that there will be one hard disk on one PC. All the space of that hard disk is shared among many hosting users.
Shared hosting is a type of web hosting service where many websites are connected to one server and each website will be different from one other. The hosting provider will give you some space in the form of packages from their servers, where you can host your website. There will be limitations in shared hosting. You have to take the service according to the package given by the provider, you have to use the feature given by the provider.
Apart from these, shared hosting is a very popular hosting service. It is a web hosting service where multiple websites are hosted with a single server. And a server (Processor, RAM, storage, CPU and bandwidth) – everything is shared among other users.
And if you use a dedicated server, that server will only have your site. You do not have to share the server with any other site. Like other important business decisions, the choice of hosting server is also very important. For example, you have a cPanel, that shared hosting server can have 25 more cPanel besides you. That means you are sharing the same server with 25 people.
Advantages of Shared Hosting
This type of hosting costs less to take and anyone can easily run it. Also, most of the users use shared hosting due to the following benefits. Let's discuss this in detail.
Affordable
The cost of shared hosting is much lower than that of dedicated or VPS hosting. In some cases, the cost of shared hosting for a site is $1 to $5 per month only. The cost will depend on the type and features of your website. It will cost you $1 or BDT 100 per month for started plan and $5 or BDT 400 on a premium or Maximum server. In this case, shared hosting is much more affordable because the hosting cost can be shared with other websites on the server.
No Need of Enough Experience
If you do not have enough experience in web development and server administration, then shared hosting will be a great choice for you. Hosting providers will do the work, so even if you don't have much technical knowledge, you can run your website. Doing things like setting up, administering and server managing will be much easier for you.
Easy Server Maintenance
When you use shared hosting, you can leave the responsibility of server administration and maintenance to the hosting provider. The technical support will be for you 24/7. For example.
Site monitoring
Instant alert if there is a problem
Backup
Repairing if there is an issue
Even security solution
This allows you to focus more on marketing and customer service aspects without worrying about site problems.
Enough Bandwidth and Storage
Currently, the marketplace is much more competitive. That's why web hosting providers are offering better options for shared hosting. You will get more than 1GB to 3GB with 50GB or 75GB of Bandwidth in a starter package which is enough for small to medium type websites!
Disadvantages of Shared Hosting
There are some disadvantages of using Shared Hosting also. Although if you run a small or medium-sized business or blog, then Shared Hosting will be supportive for you.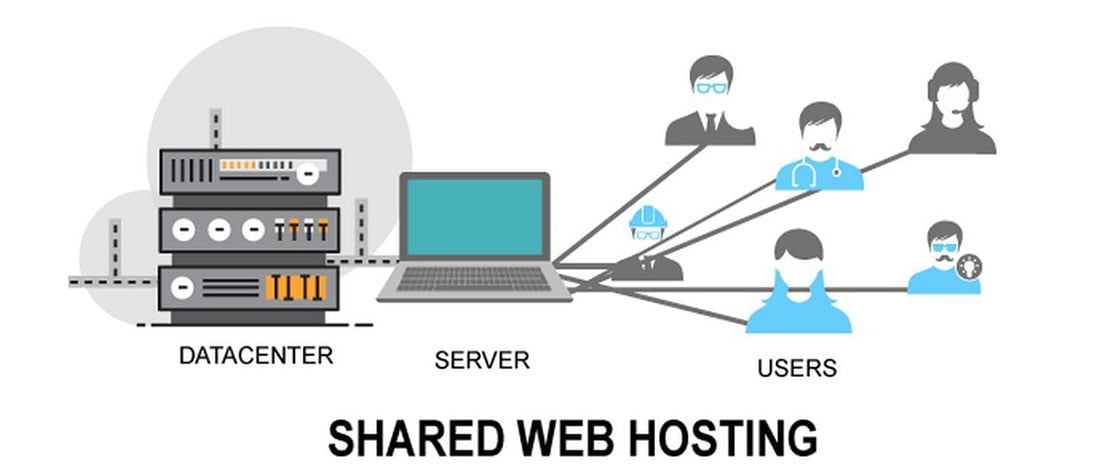 Downtime:
When you share your hosting plan with many other websites, there will be limitations in your resources. Your site may run into overloaded issues if the demand rate of other sites is high at the same time. This will bring down your site and visitors will no longer be able to visit your site! It may also be that your site is slowing down due to high traffic to the site. However, many companies like Speed Host now offer a resource limit for each cPanel.
Limited Resources:
Choosing a shared hosting plan is not a good decision for those big websites that get a lot of visitors every month and have dozens of products or services on each page! You will have to share your resources with many other websites, which will cause you to face some limitations.
You will not get a dedicated IP
You will not get a dedicated IP for your domain name, so you will not get the right service according to your needs.
Can't install any software
You cannot install any software on the server. Host Service will notify you of packages and limitations when selling hosts, so you may not be able to install any software if you wish. If you use more than 25 to 30 percent of the CPU of the main server, then you will see various problems start. Your hosting provider will advise you to have a dedicated server whenever your website has a lot of customer timelines.
Security:
When you are using a shared hosting plan, you are at risk for site security! Because your site is on the same server as many websites! If any website of the same server falls under any attack, all the websites of that server are also damaged. Because there are many websites on the same server, the risk of hacking is higher in shared hosting, which is less in that dedicated server!
Less options to customize:
There is little opportunity in shared hosting compared to a dedicated server! You will not be able to use any independent software! You can only use applications configured with that server or firewall! If you could use the application as you wish, you would no longer have to follow the instructions of the provider!  However, if you want to take control of this, you need to change the hosting.
Conclusion
Considering all, we will tell if you are just starting out. If your site is a small business site that does not have a large number of pages or products, then shared hosting is enough for you. When you will grow once, you can upgrade the plan. Speed Host ensures easy migration for all. Even you can get email hosting, digital marketing, web design or content writing service from here. So, it is easy to get all the website solutions from Speedhost Bangladesh. Please contact us for further assistance.